With most of us staying at home during this lockdown period, there is perhaps no better time than now to reflect on our goals and start developing good habits.
All of us have a desire to fulfil our goals and accomplish great things in our life. It could be getting good grades to enter your dream university. Or finding a career which matches your passion, paycheck and gives you meaning. On top of that, balancing health and relationships are also part of the equation.
However big and lofty your goals and dreams are, achieving them requires a strong foundation of habits.
An international bestselling book Atomic Habits, James Clear reveals proven frameworks to help us develop a solid foundation of habits and achieve remarkable results.
This post is a book review and summary of Atomic Habits by James Clear. Based on key insights from the book, by the end of this article, you will understand:
What exactly is "Atomic habits"?
The Compounding Effect of Habits
Why we should focus on building systems, not goals
How are habits formed
How to implement the 4 Laws of Behavioural Change to create better habits
The main message of the book that resonates well with those reading Warren Buffett, is the idea of compounding. Small, consistent habits will "compound" into significant long-term gains.
Out of all the books I've read on self-development, this is perhaps one of the most life-changing books. Read on to understand why.
Habits are like Atoms… Wait, come again?
For those who might have already lost touch with high school chemistry and physics, here is the definition of atoms:
In short, atoms are the building blocks of matter and they are very small.
"An atomic habit is a little habit that is part of a larger system. Just as atoms are building blocks of molecules, atomic habits are the building blocks of remarkable results."
Like atoms which are the smallest unit in a larger system, our habits are small steps we take each day which can aggregate to huge marginal gains.
Habits are something that you do regularly. Over time these repeated actions become mindless, as if part of your life is on auto-pilot mode.
Compounding Effect of Habits
It might seem counterintuitive that becoming 1% better or 1% worse every day is not very important. However, these numbers add up over time.
Like compound interest, if you get 1% better each day in a year, it might seem small. But in a year, you actually get 37.78% better.
"Excellence is not about radical changes, but about accurring small improvements over time." – James Clear
For example, we all know that learning a new foreign language can be daunting. However, if you were to learn 1 new vocab every day, by the year end, you would accumulate 365 new words. But if you drift off from your goals, you're essentially becoming worse off each day and it becomes a slippery slope.
Accumulating these "small wins" every day leads you on the path to developing a strong habit.
Habits are a double-edged sword
"Time is either your friend or your enemy."
As illustrated in the graph, time is your advantage if you choose to become 1% better every day.
If you have good habits, time becomes your ally. It multiplies the gains you will attain over the long run. You just need to keep showing up each day and be patient.
If you have bad habits, time becomes your enemy. As each day passes by, you become worse.
System vs Goals
When we think about achieving "success" we tend to focus on our goals.
However, it is more important to focus on building a system which allows us to attain our goals.
A system is the daily habits that you follow, which determines whether you achieve your desired outcome (goal). In other words, success is built under a system of habits.
Likewise,
"Bad habits repeat themselves not because you don't want to change but because you have the wrong system for change."
So how do we develop a system of habits such that we become 1% better every day?
Action Plan:
As you read through the concepts, it is more important for you to think about applying them in your life.
Think about a new habit you would like to establish or a poor habit you would like to break. Identify these 4 stages:
4 Stages of The Habit Cycle
(1) Cue: A trigger which gets your attention
Visual cue (e.g. see a cookie in the kitchen)
Auditory cue (e.g. phone buzzes)
Emotion or thoughts
(2) Craving: Brain signals automatic response
(3) Response: Habit
(4) Reward: Satisfaction
By identifying these 4 stages, it helps us in understanding how habits work.
Without 1+2+3 (cue + craving + response), a behaviour doesn't occur. Without 4 (reward), a behaviour won't repeat.
4 Laws of Behaviour Change
To effectively build a new habit, we can apply these 4 laws:
To break a bad habit, simply inverse the 4 laws.
Instead of making it obvious, make it invisible. Make it unattractive, difficult and unsatisfying.
Law 1: Make it obvious (invisible)
Two methods to make our habits obvious, (1) Environment design and (2) Habit stacking.
(1) Environment design
Our physical environment is probably one of the most overlooked drivers of our habits.
By simply placing objects in a prominent area in your room, it can nudge you to reach out for it more frequently. For instance, you want to read more during quarantine period. Put books on your table, beside your bed. Move the Audible app to the homepage of your screen.
If you want to follow through, you want to make that option easier.
Psych study: In a 6-month study, a physician in the Massachusetts General Hospital wanted to answer this question "Can we get people to change their eating behaviour, without motivating and talking to them at all?".
Initially, the hospital cafeteria's fridge was filled with only soda bottles.
Then, the researchers changed the "choice architecture" by placing baskets of bottled water around the fridge. Soda bottles were still in the main fridges, but more water was available in the room.
The result? People drank 25% more water and 11% less soda.
Environmental cues nudge us to make better decisions. Want to have a healthier lifestyle? Store your snacks away from the table counter and replace them with fruits. Out of sight, out of mind.
Learning point: If you want a habit to be a big part of your life, make the cues a big part of your environment. Make it the path of least resistance.
(2) Habit Stacking
"After I (current habit), I will (new habit)."
As the name suggests, habit stacking involves combining your current habit with the new habit you want to achieve. Sounds pretty intuitive, doesn't it?
Questions to ask yourself:
What are some current habits that you already have?
What are some new habits you would like to develop?
How can they fit and stack on top of each other?
For instance, during this period of COVID-19, I feel stressed and want to develop the habit of meditating.
Thus, after making my morning coffee (current habit), I will meditate for one minute (new habit).
This strategy makes use of implementation intention, a type of self-regulatory technique to create better habits.
Law 2: Make it attractive (unattractive)
Temptation bundling
You are more likely to find a behaviour attractive if you can do one of your favourite things at the same time. By bundling what you enjoy doing ("want") and the habit you want to form ("should"), it conditions you to stick to your habit.
List down in 2 columns – "want" and "should".
Find a way to link the items in the columns together
"Only watch your favourite Netflix show when you are running on the treadmill."
"Only listen to your favourite podcasts when you are doing household chores."
Here, Premack's Principle is applied, more probable behaviours will reinforce less probable behaviors. In other words, you can reinforce a habit you are building (less probable) by bundling it with something you enjoy doing (more probable).
Learning point: Combine something that you enjoy doing (want) + new habit (should) to make your habit attractive
Law 3: Make it easy (difficult)
Forming new habits is also about reducing friction.
Often, people want the best and they set big and difficult goals, thinking that it helps them get results faster. But when results don't show at the start, we get demotivated.
Instead, set small goals to reduce friction using the 2 minute rule.
The 2 Minute Rule
Start on a task for 2 minutes and it will likely give you the momentum to continue to work on it. You can often win not by doing more than somebody else, but by being more consistent.
Imagine that you set the goal of playing the guitar for 1 hour every day. But this can become tiring especially when you're just starting out.
Setting the goal as "Play guitar for 2 minutes" would be more achievable. You are also likely to continue playing even after 2 minutes have passed.
Learning point: Instead of worrying about doing impressive things, remember the 2-minute rule and master the habit of showing up.
Law 4: Make it satisfying (unsatisfying)
Give yourself a reward each time you complete a task. The reward can be as simple as marking an "X" on the calendar each time you completed a workout. Seeing your progress makes you feel good and motivates you to continue.
But if your streak breaks, remember never miss twice.
The Seinfeld Strategy: Don't break the chain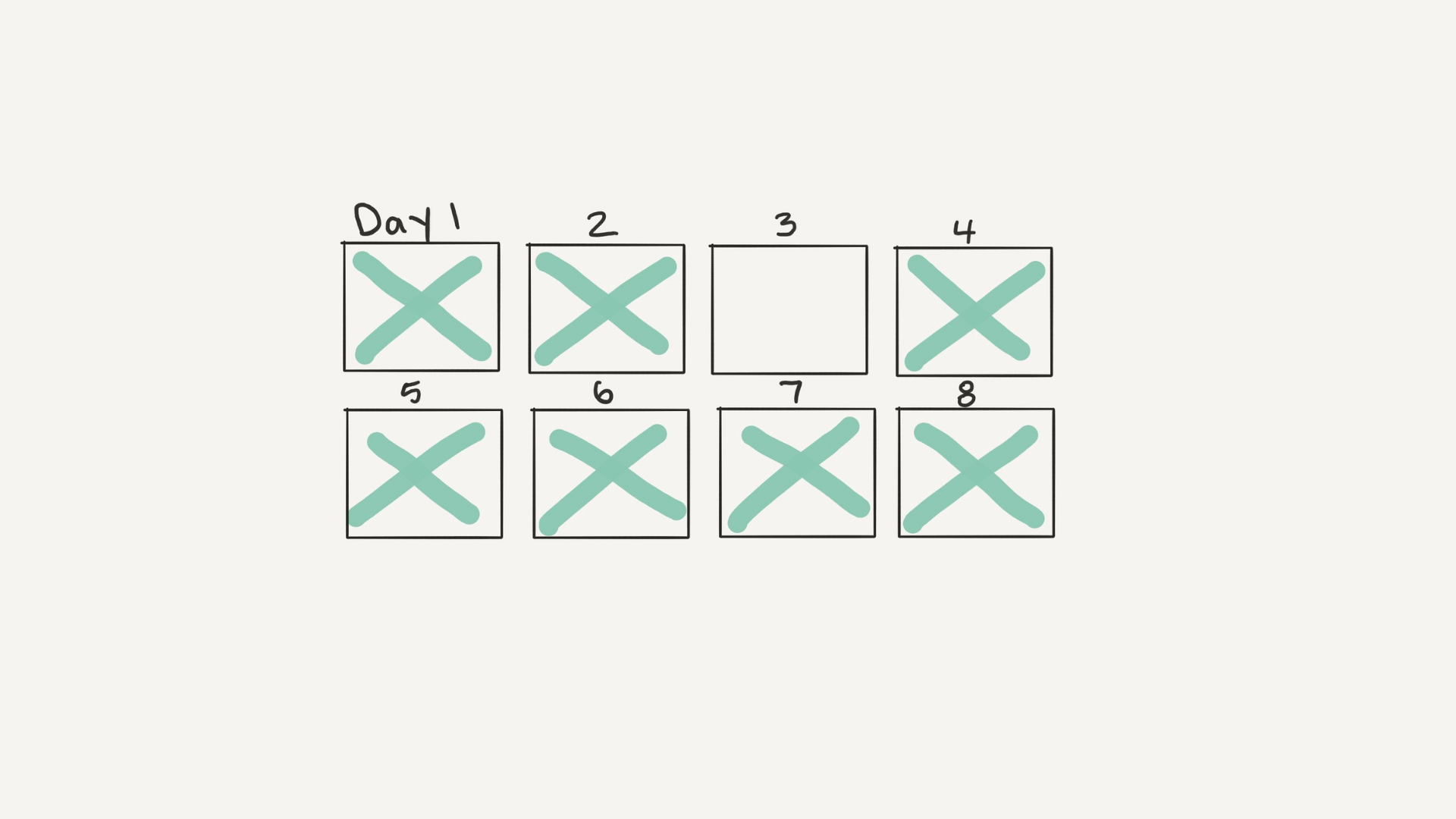 For instance, if you did not practice the guitar yesterday, don't feel disheartened. Pick yourself up the next day and get back on track.
Never lie to yourself, saying "I'll do it tomorrow". Once the chain is broken twice (e.g. skip guitar practice for 2 consecutive days), it becomes easy to give excuses and spiral into a bad habit.
Learning point: Everyone makes mistakes. But if you can correct your mistakes quickly, and "never miss twice" you can make a lot more progress.
Conclusion
3 key takeaways:
Improve by 1% every day
Identify stages of your habit cycle (Cue, craving, response, reward)
The 4 laws (Obvious, attractive, easy, satisfying)
Some final words…
Our habits create our identity. The more of a certain habit you have, it provides evidence for and reinforces your identity. For instance, writing one sentence does not finish a book, but it does cast a vote for "I am being a writer".
"Every action you take is a vote for the type of person you wish to become."
The simple but powerful concept of becoming 1% better every day, will compound into huge gains in the long run.
Let's stop thinking that we have a lot of time left.
Start building your system of habits today, and let the compounding effect be in your favour.
Thank you for taking the time to read my blog.

Enjoying the content so far? I post articles relating to business, investing, personal finance and self-development.

If you are interested in any of these topics, do subscribe to stay updated of new posts.