In The Four, Scott Galloway professor at New York University's Stern School of Business, shares his insights about the Four Horsemen. Amazon, Apple, Facebook and Google – the four most dominant companies in the tech industry.
We interact with products and services from these companies every day. They have become an indispensable part of our lives. We don't recognise how dominant they are, and how much power we are giving them.
Backed with data and research, Scott Galloway provides sound and convincing arguments. The book explores how these companies have grown into tech giants they are today, their competitive advantages, and their impact on our lives using an interesting analogy of the human body. Each of these companies satisfies different underlying human needs.
Here are my key takeaways from The Four:
The Business and the Body
The Four companies appeal to our underlying human needs. Successful businesses appeal to:
Our brain: Google is our information god, giving us answers in less than 1 second
Our heart: Facebook gives us the social connection we crave for
Our intestine: Amazon satisfies our need for consuming things, we always need more, no matter how much we have
Our desire to propagate: Apple products bespoke luxury and class, it signals to potential suitors that we are attractive and worthy mates
Apple is the only company who has successfully migrated down the torso. Started from logistics and moved further down to appeal to luxury.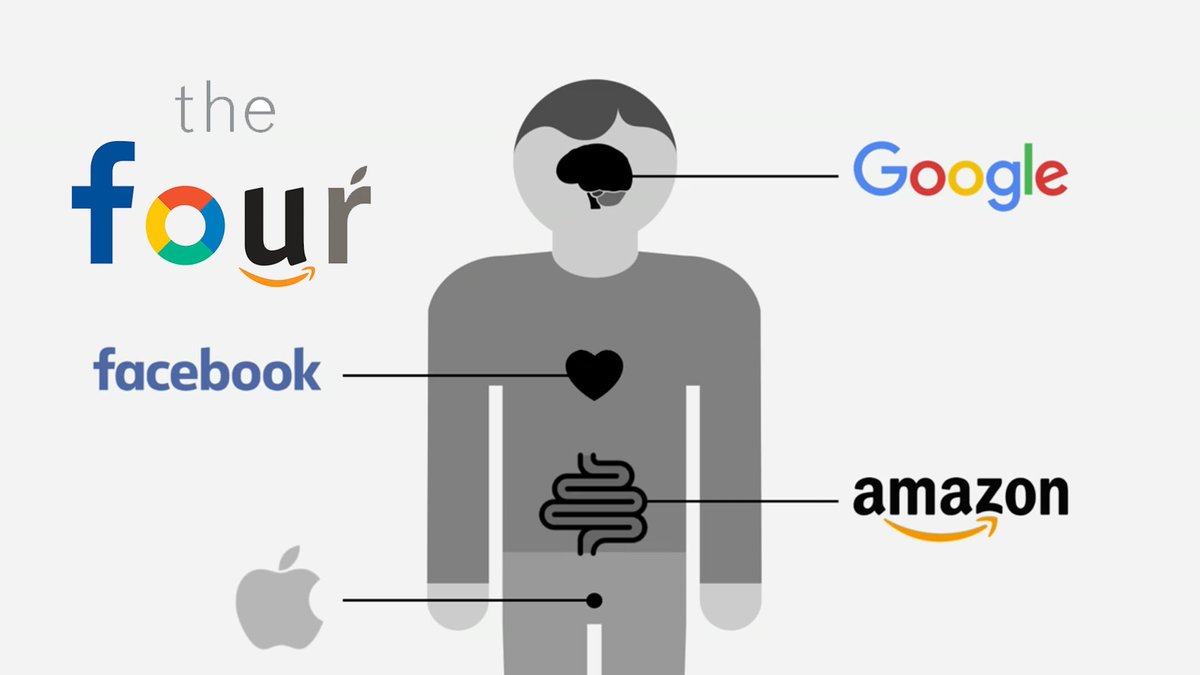 Google
Google is our modern-day god of information. Our source of knowledge, Google answers all our questions whether trivial or profound.
With more than 3.5 billion searches enquires per day, Google has insights about consumer behaviour from all across the world. It is the largest aggregator of our intentions in human history. And the algorithm gets smarter each time you use it.
Why is Google the #1, most dominant search engine?
One of the reasons why Google dominated the search engine is because of its clean homepage. Google has a simple, uncluttered homepage, free from ads. It's user interface is highly accessible compared to other search engines. In contrast, Yahoo's homepage is saturated with ads, and is it difficult to find the search box. No amount of advertisement money can buy space on Google's homepage.
Google knew that gaining trust is key, and they have built trust in both consumers and advertisers.
For consumers, we trust Google because it gives us organic search results based on relevance. We click on organic search results more often than ads. Advertisers were not allowed to influence organic search results.
For advertisers, Google's auction-system based on demand, using metrics such as cost per click. It is based on mathematics and not greed.
One question to ponder about is the level of trust we have placed on Google. Google is aware of our deepest, darkest secrets. What illnesses we are worried about, whether our partners love us and so on… We confide our troubles and trust that tiny Google search box. We trust Google, a faceless entity more than anyone, perhaps more than institutions and governments, and even our friends. Can this trust be a double-edged sword?
Facebook
According to a study, we spend an average of 2 hours and 24 minutes per day on social media every day.
Facebook is the largest social media platform in the world, with 2.6 billion monthly active users. Facebook owns Instagram, Messenger and Whatsapp.
Facebook's moat lies in its strong network effect. You are using Facebook and Instagram because your friends are there as well. An increase in the number of users, begets even more users which makes the network even more valuable.
Apart from network effect, Facebook has developed other intangible assets such as the accumulation of data. As we use these social media apps, and upload photos and videos on Facebook and Instagram, it enhances the social network as Facebook delivers more relevant content to us.
We receive a personalised content feed and targeted ads, and the value of the data asset increases in this virtuous cycle. This allows Facebook and its advertising partners to monetise on.
Facebook also increased its efforts in moderating content and reducing the spread of fake news. An example in Singapore's context is the anti-misinformation law, or Protection from Online Falsehoods and Manipulation Act (POFMA).
Amazon
From being just a bookstore, Amazon has become The Everything Store. With their one-click technology and efficient fulfilment system, consumer purchases are made frictionless.
"The Story: Earth's Biggest Store.
The Strategy: Huge investments in consumer benefits that stand the test of time—lower cost, greater selection, and faster delivery."
Customer obsession is Amazon's secret to success. Amazon's strategy is to ruthlessly focus on its customers since day one. By listening to customers, finding out what they want, and delivering it thoughtfully and quickly. This includes delighting customers by coming out with a product based on their future needs, as mentioned in the next paragraph.
Experimentation and Taking Risks
In Amazon's first shareholder letter in 1997, Jeff Bezos pointed out:
"Given a 10% of a hundred times payout, you should take that bet every time."

Jeff Bezos
Most CEOs don't think this way – they won't take risks with less than 50% chance of success, no matter how big the potential payout is. The ability to think in bets gives Amazon the ability to succeed in their inventions, including AWS Cloud.
With invention, you have to iterate numerous times, trial and error, before discovering the best solution. Failure and invention are not mutually exclusive. In order to invent something, you have to experiment and take on some risks.
As Jeff Bezos said, if you know in advance it is going to work, it is not an experiment. As mentioned in Amazon's annual shareholder letter:
"The biggest needle movers will be things that customers don't know to ask for. We must invent on their behalf. We have to tap into our own inner imagination about what's possible. AWS itself – as a whole – is an example. No one asked for AWS. No one. Turns out the world was in fact ready and hungry for an offering like AWS but didn't know it. We had a hunch, followed our curiosity, took the necessary financial risks, and began building – reworking, experimenting, and iterating countless times as we proceeded."

Jeff Bezos
How is Amazon able to do all these? Cheap capital. While most venture capital (VC) backed tech companies back then raised less than $50 million before showing investors a return, Amazon raised $2.1 billion in investors' money before the company (sort of) broke even.
Amazon's Focus on the Long-Term
Jeff Bezos has managed to totally disregard what has been taught in business schools and Wall Street's expectations – that profits are everything.
To investors, profits are like heroin. They love it a lot and are addicted to it. But Wall Street investors hold Amazon to a different standard. It took 14 years before Amazon turned a profit. By creating a compelling story about the company's vision and growth, Amazon convinced investors to downplay the role of profits, but focus on long-term growth.
Amazon's strategy is to borrow capital at a historically low rate, and reinvest the cash into their business for growth. With access to cheap capital with lower return expectations, Amazon is able to invest in its last-mile infrastructure and take risks.
"Amazon is going underwater with the world's largest oxygen tank, forcing other retailers to follow it, match its prices, and deal with changed customer delivery expectations. The difference is other retailers have just the air in their lungs and are drowning. Amazon will surface and have the ocean of retail largely to itself."

Scott Galloway, The Four
Apple
Apple is not a tech company per say. It's a luxury brand.
It is one of the only tech company that is able to extend its life by transiting into a luxury brand.
As Aswath Damodaran, Professor of Finance at NYU Stern highlights,
"Technology firms experience the traditional company life cycle at an increased speed. They age in dog years, if you will".
The life cycle of tech companies are short and are rarely timeless. But the good news is that tech companies can launch a new product, scale and acquire customers quickly. Relative to other industries such as real estate, which require much higher capital and distribution channels which takes years to establish.
Apple products signal luxury. Luxury brands have 5 key attributes:
Craftsmanship: Apple's sleek and elegant design and their minute attention to detail
Pricing power: Ability to command a premium on their prices. High prices signal exclusivity and quality
Vertical integration: Opening Apple stores and controlling distribution
Global brand management
Iconic founder
Apple's moat lies in its ability to combine both low-cost and high margins, a paradox in the luxury industry.
Think Ferrari, the premium-priced cars have a high production cost. Think LV and Hermes bags, they are anything but low-cost producers.
In contrast, let's take Airpods as an example. Airpods are small, but the margins are huge. The manufacturing cost of an Airpod is relatively low, around $59 to $69, and the average sale price is around $200. This means that every Airpod is sold at a 30% margin. The margins of Airpods are so big, it surpasses that of the margins of iPhones and iPads. Apple ability to command huge margins on its products is remarkable.
Apple manages to do both (i.e. be a low-cost producer and have high margins) because it emphasised manufacturing and robotics a generation before most consumer tech companies did. Then, they established a world-class supply chain and a strong retail presence. Apple has scaled to heights which no other luxury companies can enjoy.
The Four and You: Career Tips
At the end of the book, Scott Galloway also provides tips on managing your career. Among the many tips, these are the 5 key tips mentioned I found valuable:
1. Stay Loyal to People not Organisations
People transcend corporations, and people, unlike corporations, value loyalty.
"Good leaders know they are only as good as the team standing behind them—and once they have forged a bond of trust with someone, will do whatever it takes to keep that person happy and on their team."

Scott Galloway
2. Don't follow your passion, follow your talent
Determine what you are good at (early) and commit to becoming great at it.
A quote from The Third Door illustrates this best, "You can be good at those twenty-five things, or you can be world-class at the five." We have many passions, but to succeed we have to focus on playing to our strengths.
3. Regression to the Mean
No matter which point you are at now, remember that nothing is ever as good or bad as it seems. All situations and emotions will pass.
4. Go Where Your Skill is Valued
Find out what the company is good at, it's core functions. For instance, in CPG companies are brand managers, engineers rarely make it to the C-suite.
"If you're in the discipline that drives the company, what it excels at, you will be working with the best people on the most challenging projects, and are more likely to be noticed by senior management. This doesn't mean you can't be successful in a cost center, or that you have to make the thing the company sells."

Scott Galloway
5. Ask for and Give help
Most of the times, you just have to take the first step and ask. Also, throughout your journey, help people who are junior to you.
Don't expect everyone you help to reciprocate, and you won't be disappointed. However, plant enough seeds helping others, and a few will pay off hugely where you least expect it. Learn more about finding mentors in the previous article.
Conclusion
Overall, The Four by Scott Galloway was an insightful read. It helps us understand the businesses of these monopolies. Out of these four companies, which one does he predict will thrive the most in future? What is his prediction about the Fifth horseman? If you are keen to find out more, you can pick up the book here.
Thank you for taking the time to read my blog.

Enjoying the content so far? I post articles relating to business, investing, personal finance and self-development.

If you are interested in any of these topics, do subscribe to stay updated of new posts.